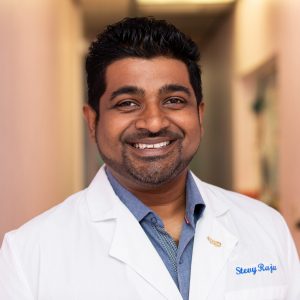 Dr. Stevy Raju received his bachelor's degree in biomedical sciences from the University of South Florida in Tampa. He went on to the University of Florida where he earned his Doctor of Dental Medicine degree – GO GATORS! He not only excelled in a rigorous dental school curriculum, but added to his education with elective courses in implant, pediatric, and hospital dentistry. His passion for dentistry and caring for others assures his patients and their families receive the care and beautiful smiles they deserve. Dr. Stevy is proud to be back in the Lakeland area practicing his profession and taking care of his neighbors.
In his free time, you will find Dr. Stevy at home with his beautiful wife, Dayana, and their adventurous two-year-old son, Izaiah. He enjoys traveling, photography, and taking Izaiah to Chuck E. Cheese!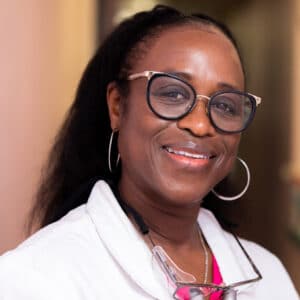 Dr. Mopelola "Lola" Adewunmi graduated with a Doctorate in Dental Medicine degree from Nova Southeastern University College of Dental Medicine in 2003. Before this, she obtained a Bachelor of Dental Surgery degree from OAU College of Dentistry. After her general practice residency at Lagos University Teaching Hospital, Dr. Adewunmi moved to England and pursued a Primary Fellowship of the Royal College of Surgeons of Ireland which she received in 1997.
Dr Adewunmi worked in private practice before joining the Florida Department of Health in 2007 as Dental Director starting the first dental clinic in one of Florida's counties. She then moved with her family to Central Florida and continued to work with the Department of Health as Senior Dentist and Clinical Supervisor serving the community for several years. She completed an Executive Masters in Public Health from University of South Florida in 2009. Dr. Adewunmi has a passion for her profession and especially loves working with children. She has organized and participated in several dental outreaches and screenings for children over the years. 
Dr. Adewunmi is married with three children, two boys and a girl. She coaches her church's middle school Bible quiz team and she enjoys swimming, cooking, and interior decorating. She also loves travelling with her family, meeting people, and learning new cultures.